APRIL 26 – 28 2019
Hosted at THUMP COFFEE (549 NW York) in Northwest Crossing (MAP)
Online Item Registration is now closed. You can register in person at Thump Coffee Roasters on Friday, April 26th from 3pm – 7pm only.
Item drop-off and in-person item registration throughout the week at the Bend Endurance Academy for convenience and assistance.
Friday April 26:

All pre-checked items are transported to the Swap site at Thump Coffee
Final chance to register your items on-site at Thump Coffee 3 – 7 PM

Saturday April 27:
Sunday April 28:

Swap is OPEN 9:30 – 3 PM
Sellers must collect all unsold items 4 – 6 PM
---
We have a new commission structure to encourage more participation and increase selection! By capping the amount, anything sold for more than $1,500 will be charged a flat-rate so it's a very competitive way to sell your bike and makes for better deals to the buyers. All the while, as the event grows, it becomes a more meaningful fundraiser for the Bend Endurance Academy's programs!
Commission rate is 20% of the final sale price per item, up to a maximum of $300, per item.
Items sold for $1,500 or more will be charged a flat rate commission of $300.
Payment, less the commission, will be provided to Consignor within 14 days of sale.
BEND ENDURANCE ACADEMY AND EVENT VOLUNTEERS ARE NOT RESPONSIBLE FOR LOST, DAMAGED, OR STOLEN ITEMS.
Online Item Registration:
The Easiest & Quickest way to register as a Seller and list your items!
Once registered, you must drop-off your items at any of the times listed below.
We will provide your tags for each item and you must sign your contract.
Item Drop-Off & In-Person Item Registration:
Tuesday, April 23rd, 10:00 AM to 2:30 PM at Bend Endurance Academy
Wednesday, April 24th, 3:30 PM to 7:00 PM at Bend Endurance Academy
Thursday, April 25th, 10:00 AM to 2:30pm at Bend Endurance Academy
Friday, April 26th, 3:00 PM to 7:00 PM at Thump Coffee NWX
NO item registration on Saturday before the swap starts.
Please contact Ann ( info@thebendbikeswap.com )if you need to arrange an appointment to register and drop off your items.
Hosted at Thump Coffee's Cafe, Roastery & Bakery. The Cafe will be open for food and drinks.
Thump Coffee's Cafe, Roastery & Bakery
549 NW YORK DR, STE. 200.
BEND, OR 97703
Free Admission!
Saturday, April 27 – 10:00 AM to 6:00 PM
Sunday, April 28 – 9:30 AM to 3:00 PM
Browse a huge selection of Bikes, Kid's Bikes, Parts, Apparel, Gear and More — new and used — you never know what gems you'll discover!
Many bikes will be available for test riding in small secure area. It's noted on the tag if the Seller will allow test rides.
Mechanics from local shops on duty to help check safety issues.
Volunteers ready to assist and answer questions.
Check out with cash or card.
No returns. All sales final. But you can sell it at next year's Swap 🙂
All Sold Items in our computer system will display in real time on our site
Manually-entered items after Friday at Noon might not be available
If you registered the item online, it should show up here if sold:
Please pick up unsold consigned items on Sunday from 4:00 PM to 6:00 PM
Any items not picked up by 6 PM Sunday will be considered a donation to the Bend Endurance Academy.
We need your help! Consider volunteering for a 3-4 hour shift ! Contact ann@bendenduranceacademy.org to find a shift that works for you.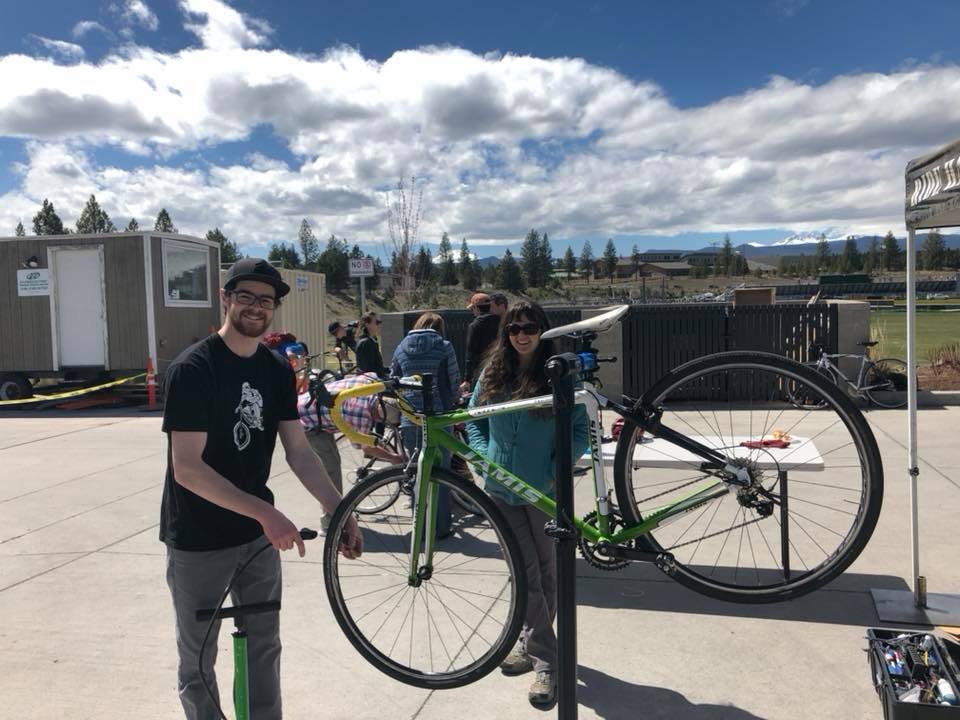 Our History:
Created by Ryan McGlone from Boneyard Cycling, the Bend Bike Swap began as a way to give back to the local community. Ryan brought together volunteers from the Boneyard Team, local bike shops and the cycling community for three days of bikes, bike gear, and cycling enthusiasm. Although the location of the Bend Bike Swap has changed throughout the past five years, originally hosted by Matt Massingale at Cascade Rack, proceeds from the event were always donated to the Bend Endurance Academy, Commute Options, and Mountain Bachelor Sports Education Foundation.
In 2019, the Bend Bike Swap will be organized by the Bend Endurance Academy and hosted by Thump Coffee in Northwest Crossing. The Bend Endurance Academy will continue the tradition of offering an assortment of gear for mountain biking, road cycling, cyclocross while making customer service a high priority.